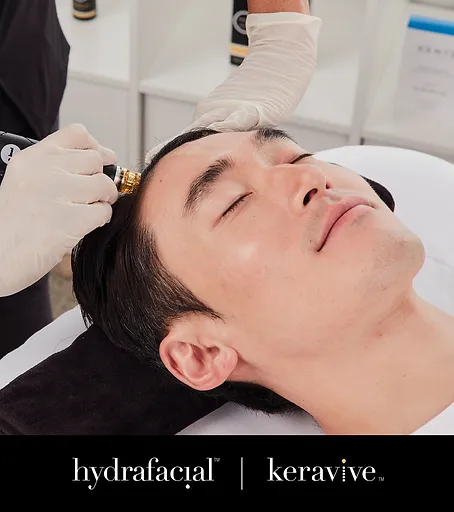 Hair loss and thinning can be emotionally challenging for anyone, whether due to a medical condition or natural aging. These feelings may cause stress and frustration. Luckily, effective hair restoration treatments are available to help those experiencing hair loss. At Mynx Aesthetik in Tacoma, WA, we offer advanced hair restoration treatments to help you regain a full, natural-looking head of hair.
What Causes Thinning Hair?
Hair loss and thinning is a common issue that can affect anyone. One may experience hair loss or thinning for several reasons, including heredity, hormonal changes, certain medical conditions, and the natural aging process. However, several hair restoration and thinning hair treatments are available to help alleviate this frustrating and distressing issue.
Benefits of Hair Restoration Treatments
If you're seeking a solution for your thinning hair or hair loss, hair restoration at Mynx Aesthetik offers many benefits that can significantly improve your hair's appearance and boost your confidence. Let's delve into the specific advantages that this transformative treatment can provide:
Provides Natural-Looking Results
Customized hair restoration treatments aim to provide natural-looking results. Our advanced techniques allow for the precise placement of hair grafts to mimic the natural hairline and growth patterns.
Personalized Approach
Customized hair restoration treatments consider each person's unique needs and preferences. The treatment plan is tailored to address specific concerns, hair type, desired density, and hairline shape, resulting in a personalized solution that matches the individual's goals.
Permanent or Long-lasting Results
Depending on the type of treatment, hair restoration can offer permanent or long-lasting results. Procedures like hair transplantation involve the relocation of healthy hair follicles from donor areas to thinning or balding regions. Since these transplanted hairs are resistant to baldness, they will likely remain in place for a lifetime.
Minimal Downtime
Hair restoration treatments have evolved significantly, and many modern techniques are minimally invasive. These treatments allow for quick recovery and minimal downtime compared to traditional methods. This means individuals can resume their daily activities shortly after the procedure.
What We Offer for Hair Restoration Treatments
At Mynx Aesthetik, we specialize in advanced techniques for hair restoration treatments that can have both immediate and long-term effects, including Potenza RF microneedling and Keravive™.
Potenza RF Microneedling
Potenza RF microneedling is a cutting-edge technology offering a unique hair-thinning solution for individuals experiencing thinning or hair loss. This treatment uses ultrafine needles and radiofrequency energy to stimulate the body's natural healing process to regenerate new collagen and elastin. The result is scalp revitalization, leading to fuller and healthier hair growth.
What sets Potenza apart from other hair-thinning solutions is that it can be used on all skin types and anywhere on the body, providing new hope for those struggling with hair loss. Its versatility and effectiveness in treating hair restoration make Potenza a revolutionary technology in this field.
Keravive™
Many people are concerned about hair restoration, especially when they experience hair loss or thinning. Fortunately, Keravive™ is a unique treatment that can cleanse, stimulate, nourish, and hydrate your scalp to address these issues. The Keravive™ treatment is relaxing and can be compared to a facial for your scalp.
In addition to improving the overall health of your scalp, Keravive™ can also help to combat dryness, irritation, flaking, and itchiness. With Keravive™, those who have suffered from poor scalp health can find relief and improved hair growth. If you want fuller, healthier-looking hair, then Keravive™ is an innovative solution that you should consider.
Frequently Asked Questions About Hair Restoration
Is Hair Restoration Suitable for Both Men and Women?
Absolutely! There are effective hair-thinning treatments for men and effective hair-thinning treatments for women. Our customized treatments cater to each individual's specific needs and goals, ensuring optimal results regardless of gender.
How Long Does the Hair Restoration Process Take?
The duration of the hair restoration process can vary depending on the extent of hair loss, the chosen treatment method, and individual factors. During your consultation, we will assess your condition and provide you with a personalized treatment plan that includes an estimated timeline.
Is Hair Restoration a Painful Procedure?
Hair restoration procedures are generally well-tolerated by patients. Local anesthesia ensures your comfort during the treatment, and any post-procedure discomfort is typically mild and temporary. We will guide you throughout the process, ensuring your comfort and safety.
Who Qualifies for Thinning Hair Treatments?
If you're curious whether you qualify for hair restoration treatments, your best bet is to schedule a consultation with us. Hair loss or thinning hair affects a wide range of people, so finding a solution customized to your unique needs is essential. During a consultation, we can evaluate your hair and scalp to assess the severity of your hair loss or thinning and recommend a treatment plan from there.
Trust Your Hair Restoration Journey to Mynx Aesthetik in Tacoma, WA
At Mynx Aesthetik in Tacoma, WA, we are committed to helping you achieve the hair of your dreams through our advanced hair restoration services. With our expertise and dedication to delivering exceptional results, we stand out as a trusted provider in the field. We combine cutting-edge technology with personalized care to effectively address your hair loss concerns. Our commitment to excellence and attention to detail ensure that each client receives a customized treatment plan tailored to their unique needs and goals.
Our hair restoration services offer a variety of benefits, including a more youthful appearance and the ability to style your hair however you wish. Our treatments not only improve your physical appearance but also your overall well-being. If you're ready to begin your hair restoration journey, contact us to schedule a consultation. We'll assist you every step of the way and help you achieve a full and healthy head of hair.
Don't hesitate any longer; book your appointment today and discover the endless possibilities.